Mission Statement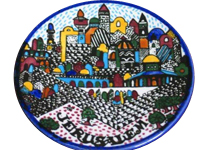 In collaboration with existing cultural heritage institutions, ARCH identifies elements of cultural heritage in Jerusalem that are at risk.  We categorize, prioritize and document those risks.  We lobby all relevant governments and organizations on behalf of threatened cultural heritage and raise funds for focused restoration projects.
Vision Statement
Responsible cultural and tourism authorities should protect and manage universal cultural heritage in Jerusalem through sustainable policies and programs as well as best practices in governance.  We believe that to be effective advocacy should be pragmatic, impactful and up-to-date.
Objectives
Build an internet data base of  "at-risk" cultural heritage, both tangible and intangible, such as  archaeology, architecture, antiquities, holy sites, manuscripts and books, handicrafts, folklore and other forms of cultural identity;
Digitize vulnerable cultural heritage in order to extend access to scholars, students and the general public;
Document and publicize activities that threaten vulnerable physical or non-physical cultural heritage, especially on sites protected under international law;
Revive moribund UN Resolutions on Jerusalem and encourage their re-injection into negotiations;
Sponsor research on the protection and restoration of cultural heritage resources through international conferences and publications;
Enlist support of community institutions (national heritage and community based) to ensure the sustainability of restoration projects;
Advocate on behalf of significant and endangered cultural heritage.